I don't know about you, but homemade bread ranks near the top of my list of comfort foods. And while I've cut most bread out of my diet, sometimes the weather or a certain meal just calls for warm, fresh bread.
Yet despite its delicious allure, homemade bread is one of those tasks that intimidates many people. Yes, it takes a little time and patience, but it's really not that difficult. Come on, let me walk you through the process.
Bread is made up of simple ingredients, most of which you probably have on hand, except for yeast, which you can pick up on the baking aisle of any grocery store.
2 packets active dry yeast
3/4 warm water (105-115 degrees, too hot and it will kill the yeast)
1 cup lukewarm milk
1 cup lukewarm water
3 tablespoons sugar
3 tablespoons shortening, softened or partially melted
1 tablespoon salt
7-8 cup flour (I prefer bread flour, but you can use regular all-purpose flour, if you like. The choice is up to you.)
First, dissolve yeast in 3/4 cup water. You can do this in your mixing bowl or a separate measuring cup. Simply add the yeast to the water and gently stir.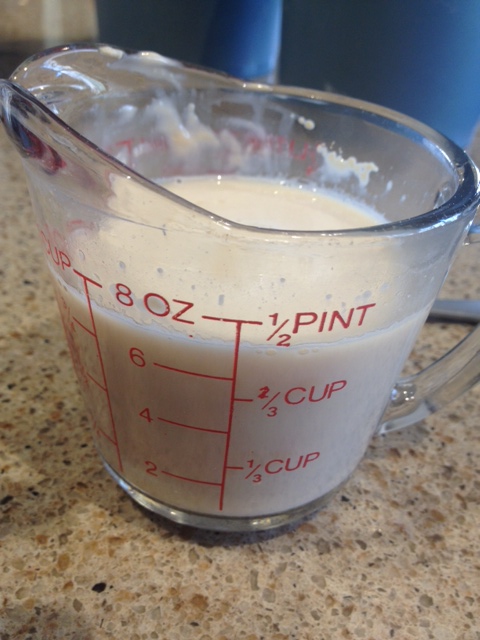 Now pour the liquid into a large mixing bowl (unless that's where you dissolved it, in which case it's already there) and stir in milk, water, sugar, shortening, salt and 4 cups of flour.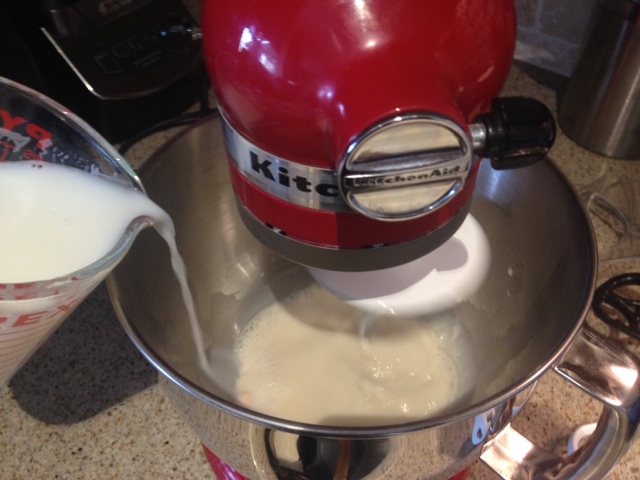 Beat mixture until smooth. Expect it to be somewhat runny. You can't see it here, but when I lifted the beater, the gooey dough dripped off.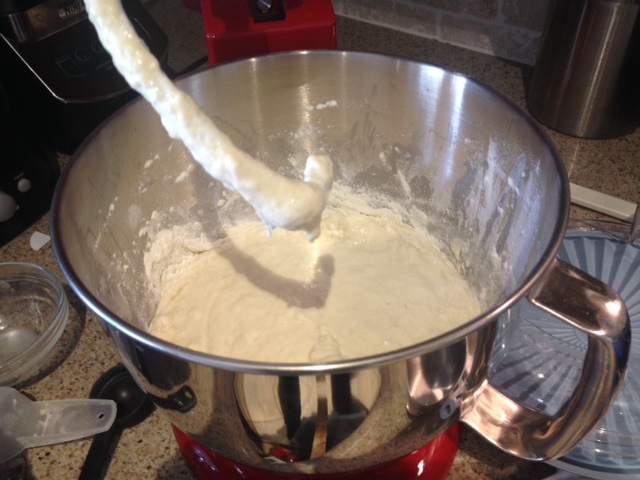 Let me add here that you don't have to have a big stand mixer with which to do this. A large bowl and spoon work just as well.
After everything is mixed, add additional flour until the dough is easy to handle. Approximately 2-3 cups more, added in 1/2 cup increments. You just don't want the dough sticking to your fingers. Yes, it will be slightly sticky, but it shouldn't adhere to your skin. On the other hand, if you add too much flour, the bread will be tough.
This looks about right.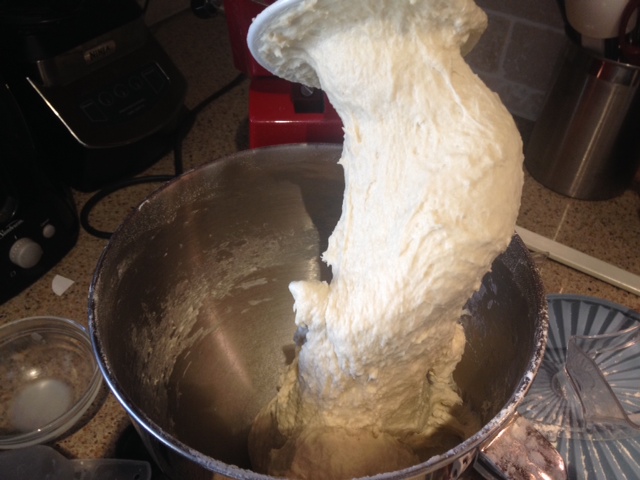 Next comes the fun part.
Turn dough onto lightly floured surface.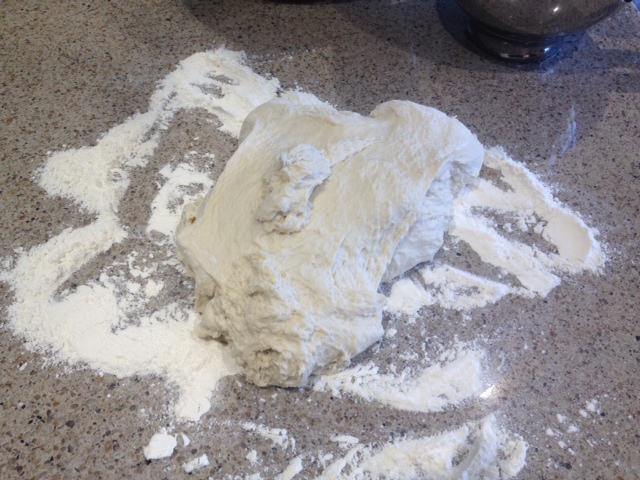 If you happen to have a stand mixer with a dough hook, you can let the machine do the kneading for you, but I happen to prefer the old fashioned way.
So we're going to knead the dough until smooth and elastic.
Form into a ball…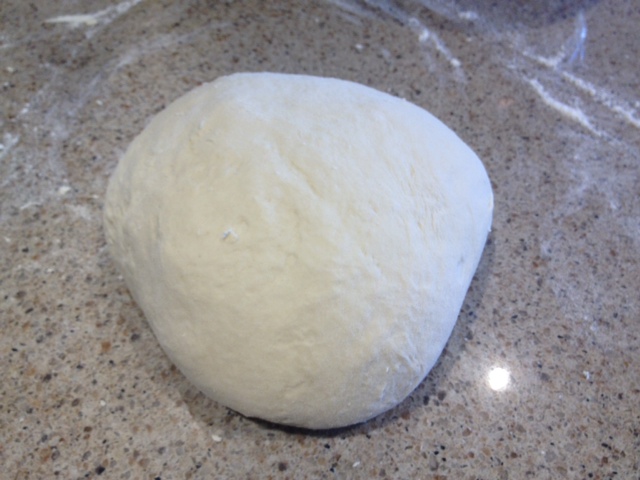 And place into a large, greased bowl, turning to grease both sides of the dough.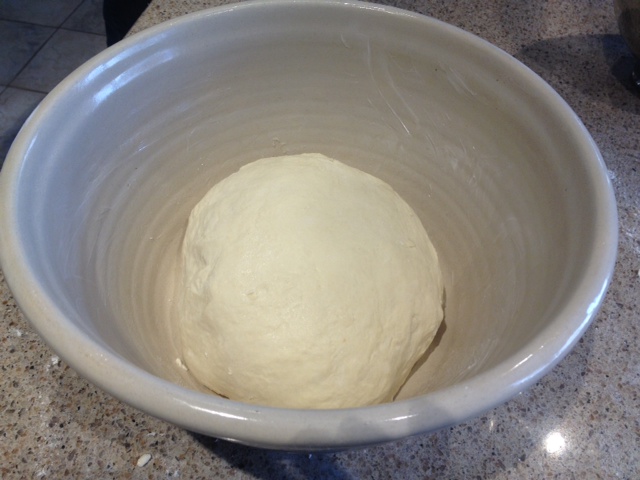 Cover with a clean towel and let rise in an area free of drafts until double.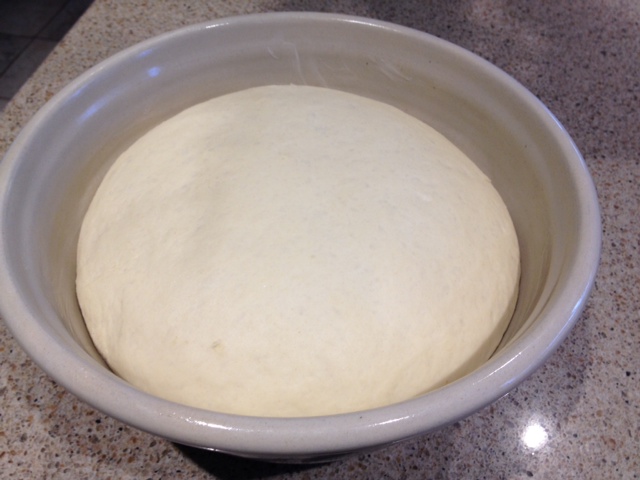 Don't you just love chemistry?
Now comes my second favorite part. Punch down dough.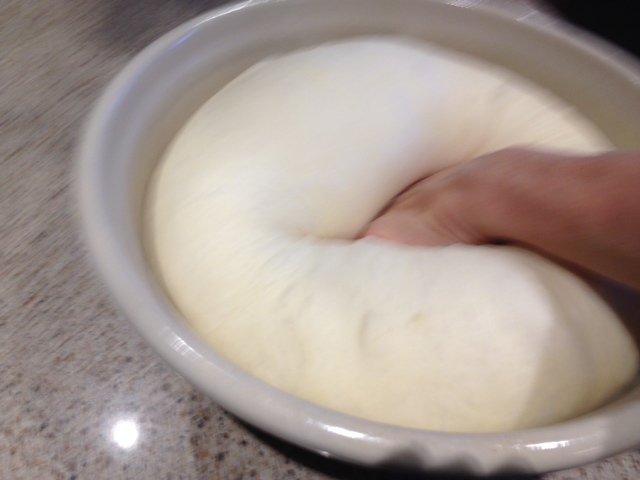 Sorry, it's hard to keep the camera steady when getting in a good punch.
Divide the dough in half.
Roll each half into a rectangle that's approximately 18×9. Don't worry, it doesn't have to be precise.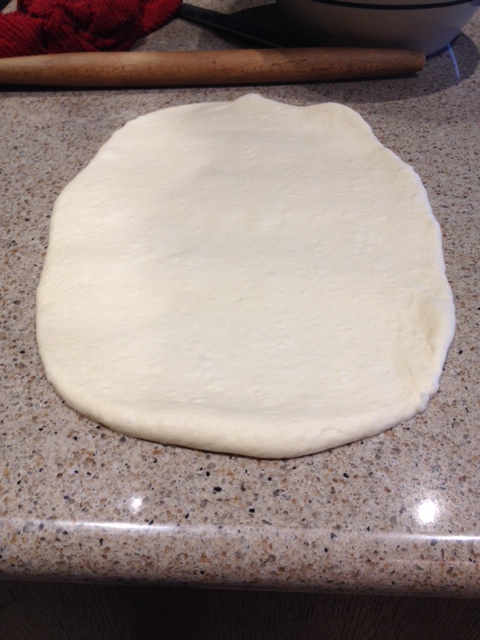 As you can see, mine is more like an oval.
Roll tightly, beginning at narrow end.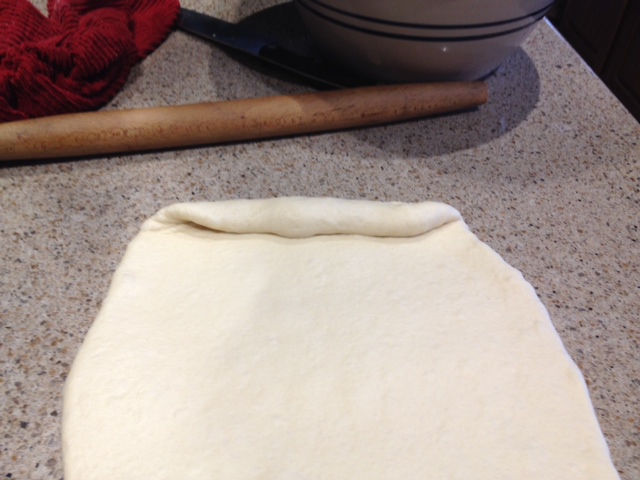 Keep going.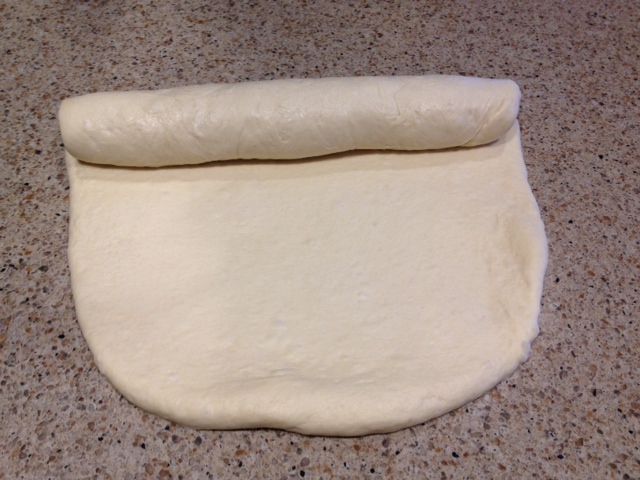 There you go.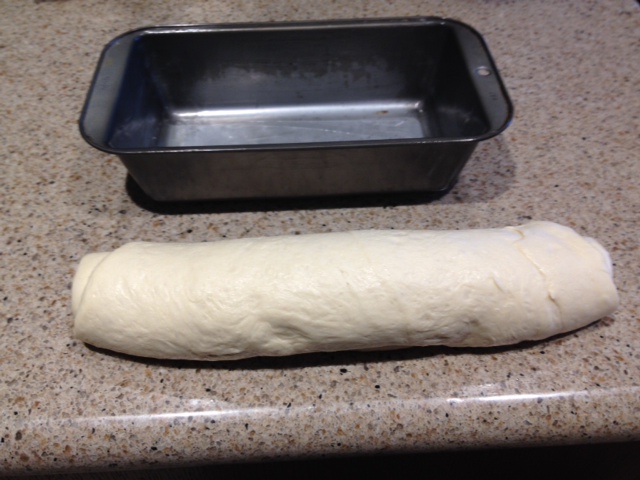 Your roll will likely be longer than your pan and that's okay. Place roll, seam side down, into greased bread pan, folding the ends under like this.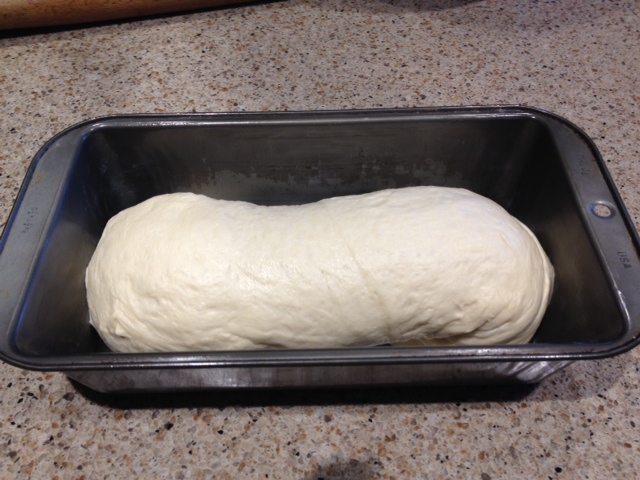 Tah-dah!
Brush each loaf with melted butter.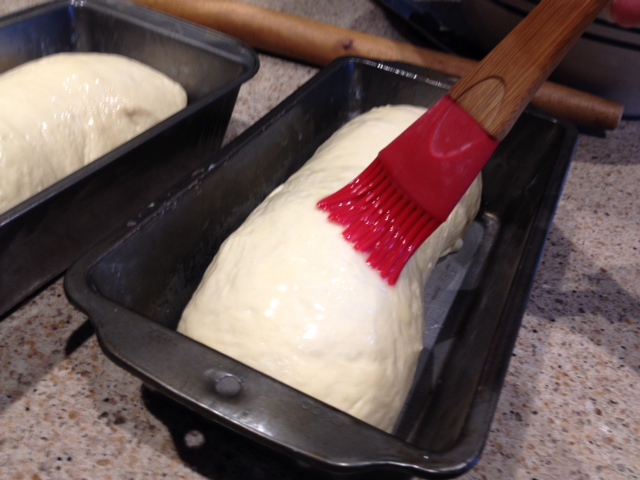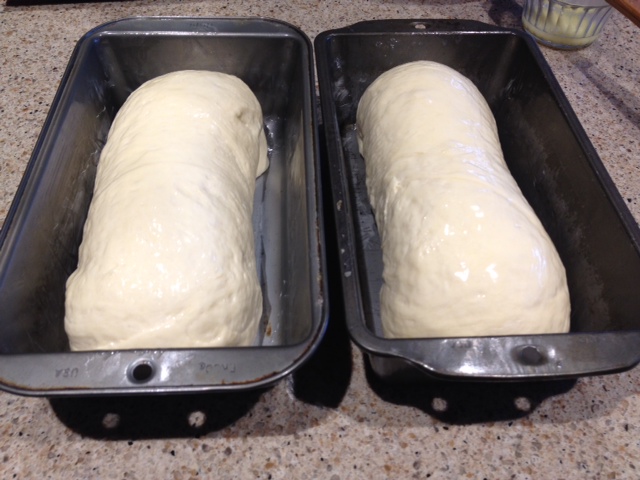 Let rise about an hour, or until double.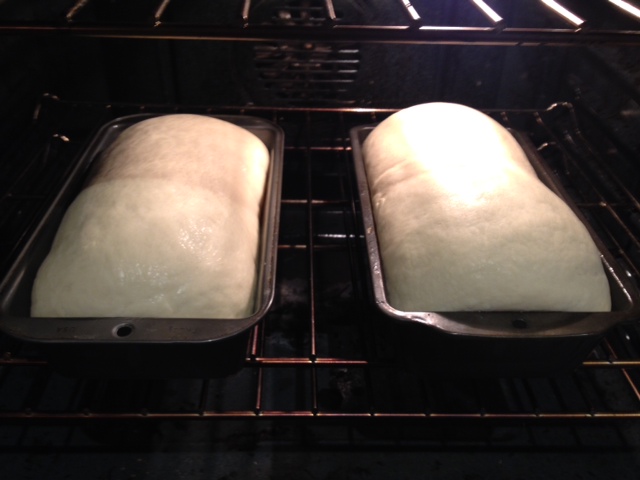 These guys are ready to bake.
**Note: My oven has a PROOFING mode, so that's why they're rising in the oven. If your oven does not have a proofing mode, it can still be a good place to let your dough rise. Just DO NOT turn on the oven.
Once the dough has risen,  place racks so that the tops of the loaves are in the center of the oven. Heat oven to 425 degrees and bake 20-30 minutes until loaves are golden brown and have a hollow sound when tapped.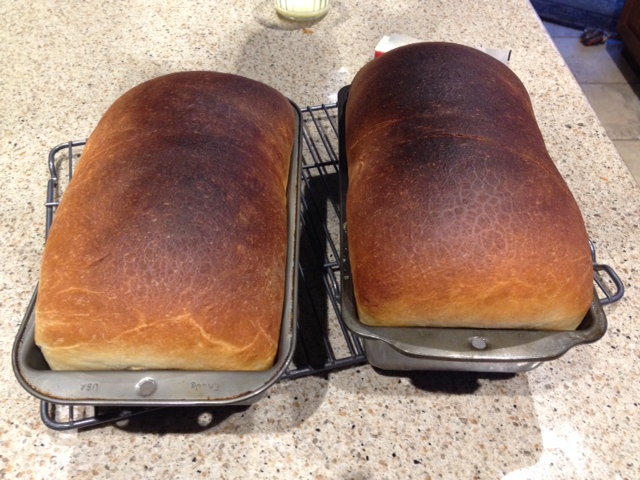 Immediately remove from pans.
Oooo, yeah. They may be a little too dark on top, but they're perfect otherwise. Remember, it's always best to set your timer for the minimum suggested time first, then add more as needed.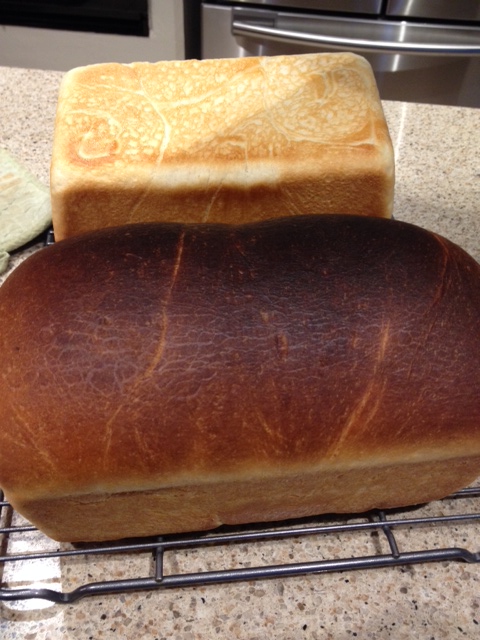 Brush entire loaf with butter. This will simply absorb into the bread and soften the crust.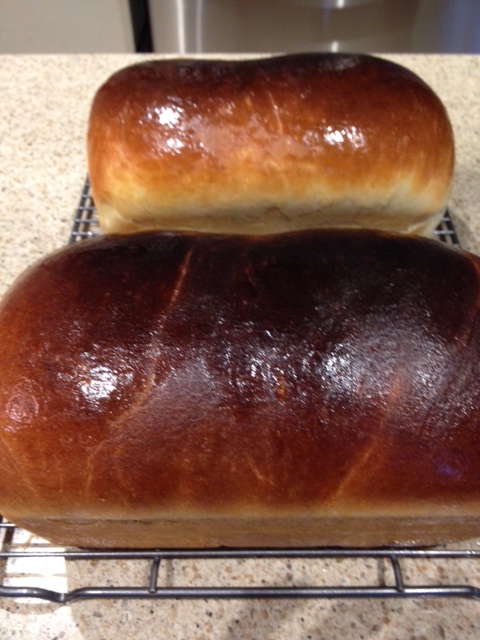 I dare you to wait until they're cool to try a slice.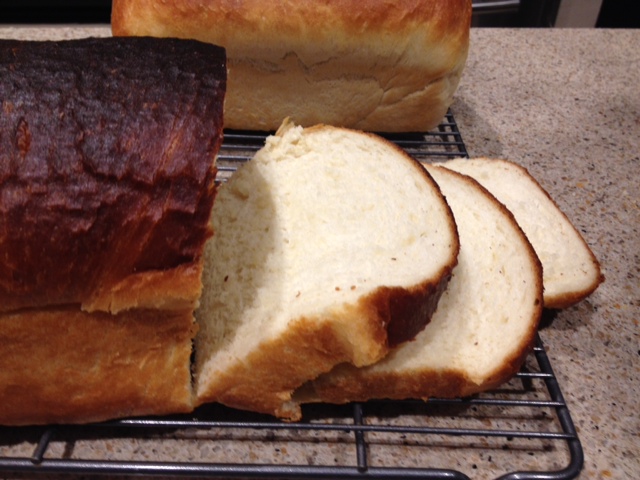 Whether straight out of the oven, served with steaming bowl of stew or toasted for breakfast, it's hard to beat the comforting goodness of homemade bread.
And yes, you CAN do this.